News
Fairmont FCU's Stephanie Williams Selected as West Virginia's 2020 GAC Crasher — 2/4/20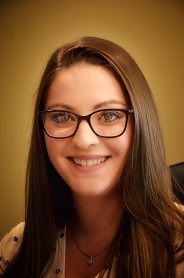 The West Virginia Credit Union League is pleased to announce that Stephanie Williams, Financial Services Coordinator at Fairmont Federal Credit Union has been selected to attend Crash the GAC by The Cooperative Trust and Credit Union National Association. The GAC is the Credit Union National Association's annual Governmental Affairs Conference which will held in Washington, D.C., February 23-27, 2020.
Crash the GAC is a non-stop, career-changing program for young professionals that allows them to participate in the industry's largest advocacy conference with complimentary registration, exclusive networking opportunities, leadership development tools, and mentoring sessions with industry leaders from organizations such as Filene Research Institute, National Credit Union Foundation, and CUNA.
"It is such a wonderful opportunity! I'm honored to have been selected, and I'm incredibly excited to Crash the GAC," stated Williams upon receiving the news of her selection. "I hope to gain knowledge and a better understanding of the CU Movement, so that I can pass on what I learn to my co-workers, members, and friends. Personally, I'm hoping Crash the GAC 2020 will help me be even more passionate about my career as a CU employee," she added.
Chosen by the Cooperative Trust through an application process, all Crashers receive a complimentary registration to attend GAC, from Credit Union National Association. In addition, the West Virginia League Designated Fund provides a $1,000 "Crasher scholarship" to offset travel and lodging related expenses.
"As part of the League's CU Next group of young professionals, we congratulate Stephanie on being chosen as West Virginia's 2020 GAC Crasher," stated West Virginia Credit Union League President Ken Watts. "We look forward to her joining us on our visits with West Virginia's Congressional delegation in Washington, D.C. later this month, among other planned activities."
The Crash the GAC is brought to you by The Cooperative Trust and CUNA, in association with state Credit Union Leagues/Associations.
# # #