News
Emily Claycomb Earns CUDE Designation — 12/6/19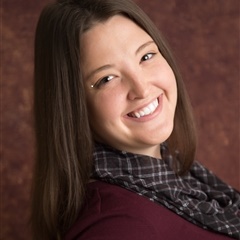 Bayer Heritage FCU's Emily Claycomb was among 47 credit union professionals that were certified as Credit Union Development Educators (CUDEs) after completing the National Credit Union Foundation's Credit Union Development Education (DE) Training held November 6-12, 2019 at the Lowell Center in Madison, Wis.
Claycomb, who also serves in a volunteer capacity as President of the Wheeling Chapter, becomes the latest in a long line of credit union professionals participating in the League's CU Next program to receive an annual full scholarship from the West Virginia Designated Fund of the National Credit Union Foundation.
"After attending this program, I gained more than just knowledge about the credit movement, I developed a feeling of purpose within the movement, said Claycomb, reflecting on her experience. "The movement is more than just my credit union or my community – it is a global movement and credit unions are stronger together. By living the mission of people helping people, we can make a difference in the world and that's very inspiring. I'm very thankful for the CU Next program for this opportunity, it was one of the best experiences of my professional career, " she added. Claycomb further stressed that the major focus of the CUDE program is to focus on the "WHY" and the purpose of credit unions.
A Hands-on Curriculum
DE Training provides critical lessons in cooperative principles, credit union philosophy and international development issues while incorporating challenges credit unions face today. During the recent week-long program, participants were involved in group exercises, field trips, discussions with speakers from around the credit union system, and are required to complete team projects proposing solutions for credit unions to help alleviate or eliminate challenging situations in any given area. For this class' final case studies, participants worked through and presented solutions to critical issues that included student loan debt, board development and recruiting including the debate over compensation, building microfinance programs in developing countries, credit union solutions to predatory lending, the increasing issue of homelessness in America, and rejuvenating a stagnant credit union.
"We congratulate Emily upon earning her CUDE designation," stated League President Ken Watts. "As part of our CU Next group, she has become a leader in her local chapter, and are pleased she will be able to share her knowledge, experience, and enthusiasm with other credit union individuals," he added.
Mission and Focus
The mission of the Credit Union Development Education (DE) program is to promote credit unions' social responsibility and domestic and international development through interactive adult education and professional networking. By linking credit unions' past and present, the DE program brings renewed relevance to credit unions' seven cooperative principles and the philosophy of "People Helping People."
Since 1982, more than 1,900 credit union advocates from over 36 countries have graduated from DE Training to become Credit Union Development Educators (CUDEs). Once they earn their CUDE designation, people return to their jobs with a sense of personal enrichment and renewed energy to share what they have learned. This growing corps of credit union advocates devotes professional and volunteer time to spreading the credit union message to audiences throughout the country.
# # #