News
Credit Union Gets Special Visitor on Miracle Jeans Day — 9/12/19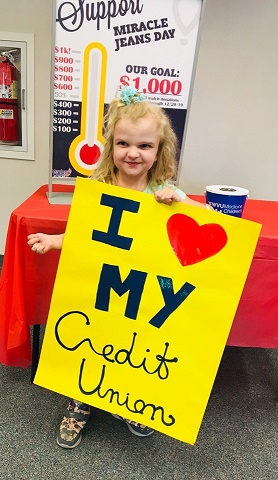 WV Champion Child Ziler Hawkins
Photo courtesy of Members Choice WV FCU
On Wednesday, September 11, Children Miracle Network WVU Medicine Children's Hospital 2019 Champion Child, Ziler Hawkins of South Charleston, WV, paid a visit to Members Choice West Virginia Federal Credit Union on Miracle Jeans Day.
Ziler Hawkins was named 2019 Champion Child for West Virginia's only Children's Miracle Network Hospital, WVU Medicine Children's. Ziler became a patient of WVU Medicine Children's when she was diagnosed with hydrocephalus, a condition in which excess cerebrospinal fluid builds up in the brain. To-date, Ziler who is now 7-years-old has undergone 15 brain surgeries. Ziler is an outgoing, happy little girl who has had a great time so far traveling the region in support of WVU Medicine Children's and Children Miracle Network Hospitals.
On Wednesday, September 11, credit unions across the nation dressed casual for the annual Credit Unions for Kids Miracle Jeans Day event in support of Children's Miracle Network Hospitals. Participating credit union employees donated $5 each for the opportunity to wear jeans to work mid-week and will offer paper icons that members can purchase for $1 in support of the fundraiser. Proceeds will be donated to WVU Medicine Children's, and their School Intervention Program called CU Learning.
CU Learning is a new School Intervention Program available to children admitted for extended stays to WVU Medicine Children's to help make the transition from hospitalization back to school as seamless as possible
In honor of Ziler, Members Choice WV FCU will match all donations made, up to $1,000.00, for WVU Medicine Children's now through December 20th. The credit union will hold various fundraisers through the end of the year to encourage employees, members and the community to come together toward the $1,000.00 goal.
# # #