News
West Virginia League Elects Officers Following 83rd Annual Meeting — 5/21/19
Joetta Heck, Kemba Charleston FCU, Dunbar, W.Va. has been elected Chairman of the West Virginia Credit Union League board of directors succeeding Edgar Cosner, The United FCU, Morgantown, W.Va.

The elections were conducted following the League's 83rd annual meeting held on May 18 in Charleston, W.Va.

Other board officers elected include:
Vice Chairman—Sherry Peck, Martinsburg V.A. FCU, Martinsburg
Treasurer—Tom Walker, Universal FCU, Huntington, and
Secretary-- Mike Tucker, WV Central CU, Parkersburg, W.Va.
Natisha Swiger, Home FCU, Clarksburg, W.Va., is the newest board member to be elected from District 8-Harrison County, following Ron Bragg's decision not to run for another term in March.
During the league's business meeting, Robert Mrvos , First Choice America Community FCU, Weirton, W.Va., received the William Bryan Hawkins Award, the league's highest volunteer honor among credit union officials. Gabrielle Wright, Members Choice WV FCU, Charleston, W.Va. received the Pacesetter Award, reflecting excellence among paid credit union staff in West Virginia.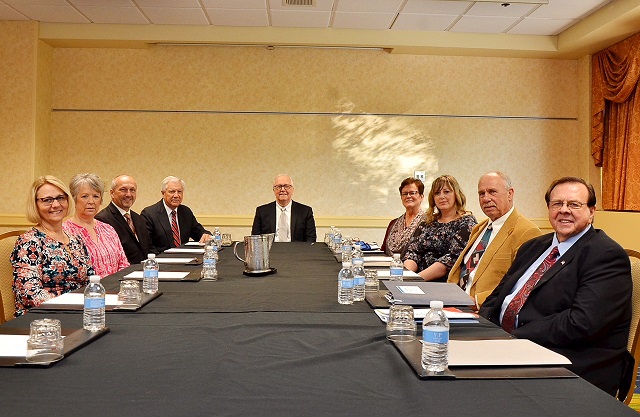 From left: Joetta Heck, Kanawha Valley; Sherry Peck, Eastern Panhandle; Mike Tucker, Parkersburg; Tom Walker, Huntington; Ken Watts, League President; Lynne Teets, Wheeling; Natisha Swiger, Harrison County; Larry Slayton, Southern West Virginia; and Ed Cosner, Morgantown-Fairmont.