News
Credit Unions may register now for July Small CU Workshop — 5/9/19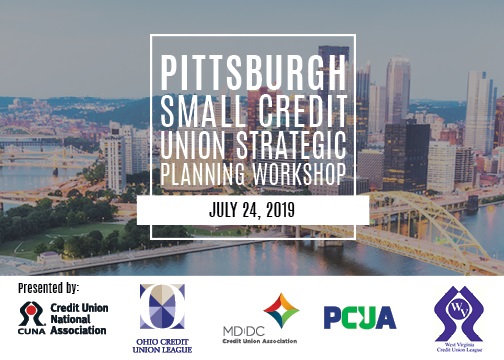 Early Bird Pricing available until June 24
Registration is now open for the Pittsburgh Small Credit Union Strategic Planning Workshop, which will instruct CEOs, key staff, and board members how to establish an effective board planning process at your credit union. This workshop is beneficial for any credit union employee or board member at a credit union $120 million in assets.
The event is scheduled for Wed., July 24, at Washington Area FCU's offices in Washington, PA.
For a special price of $119, this one-day workshop also features three case studies on thriving small credit unions, a takeaway Facilitator's Guide that walks credit union leaders step-by-step through the strategic planning process, and the rare occasion to network with credit unions outside your state.
The $119 early-bird pricing is available until June 24, 2019. The special pricing is made possible by a partnership between CUNA, the West Virginia Credit Union League, the Pennsylvania Credit Union Association, the Ohio Credit Union League, and MD|DC Credit Union Association.
# # #