News
TRGroup Partners with Radford University to Offer Cybersecurity Online Training for Credit Unions — 7/2/18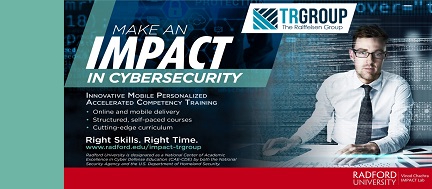 Self-paced courses offer 12 month completion window
The TRGroup and Radford University's IMPACT Lab have partnered to provide cybersecurity training to credit unions' staff to ensure the assets of all of your credit unions are protected against cybercrime.
TRGroup is an LLC formed by seven state credit union trade associations (Virginia, Kentucky, Louisiana, Mississippi, Tennessee, West Virginia, and Indiana). Radford University has been designated a National Center of Academic Excellence in Cyber Defense Education by the National Security Agency and Department of Homeland Security.
There has been an unprecedented rise in cyber threats across every industry including the financial sector. The average cost of a data breach for financial services businesses is estimated to be approximately $7 million. Cybercrime is one of the most notable threats for credit unions and the number one concern for credit union regulators; therefore, it is imperative for credit unions to encourage professionals responsible for cybersecurity to go through this training to ensure they are more prepared and have another layer of protection from cybercrime.
The award-winning IMPACT cybersecurity training program is designed to address this threat by developing credit unions' workforce to protect your organization's assets. The training is delivered completely online and self-paced to ensure your staff are mastering cybersecurity skills at times most convenient to them.
The training is aligned with industry workforce standards (e.g., NIST) and employs research-based practices from cognitive science, analytics, simulation-based learning and gamification to ensure it is highly effective and engaging.
The 18-credit hour Cybersecurity certificate is $6,000 for an unlimited 12-month license. This is a great program for IT staff who are responsible for keeping your data secure.
The coursework is as follows:
-CBIT 100: Ethics and Laws of Cybersecurity
-CBIT 101: Foundations of Cybersecurity
-CBIT 240: Data and Web Security
-CBIT 250: Network Security Fundamentals
-CBIT 475: Penetration Testing and Incident Handling
-CBIT 476: Cyber Defense
The 4-credit hour Cyber Defense course (CBIT 476) is $1,250 for a 12-month license. This is a great program for any staff who need cyber awareness or are responsible for cyber policy for the credit union.
For more information, visit https://www.radford.edu/content/impact/impact-trgroup.html or contact Rich Schaffer at the League office.
# # #