News
Alexis Friel selected as West Virginia's 2018 GAC Crasher — 1/26/18
Receives $1,000 scholarship from WV Designated Fund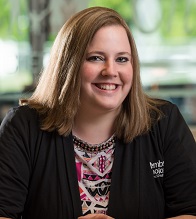 The West Virginia Credit Union League is pleased to announce that Alexis Friel of
Members Choice WV FCU
has been selected to attend Crash the GAC by The Cooperative Trust and Credit Union National Association. The GAC is the Credit Union National Association's annual Governmental Affairs Conference which will held in Washington, D.C., February 25 to March 1, 2018.
Crash the GAC will bring 78 young credit union professionals together from each state, running a tailored program alongside the main event and allowing for mentor sessions with key individuals; previously from the likes of National Credit Union Foundation, Credit Union National Association, Filene Research Institute and CUNA Mutual Group.
"I am so excited and feel so fortunate to be able to Crash the GAC! This is a once in a lifetime opportunity to work with our government and be an advocate for credit unions," said Friel after learning the news about her selection. "I look forward to not only growing professionally from the knowledge I receive at GAC, but also to bringing the experience back to benefit my credit union and the state of West Virginia," she added.
All Crashers receive a complimentary registration to attend GAC, from Credit Union National Association. In addition, the West Virginia League Designated Fund provides a $1,000 scholarship to offset travel and lodging related expenses. During the previous three years, the League Designated Fund has co-sponsored three Crashers from West Virginia to attend the GAC.
"We congratulate Alexis on being selected as West Virginia's 2018 GAC Crasher," stated League President Ken Watts. "We look forward to her joining us in February at the GAC and during our visits with West Virginia's Congressional delegation. It will be a good opportunity for Alexis to network with other young professionals, and to interact with other credit union representatives from West Virginia," he added.
"The Crashers program is great for young credit union professionals, for GAC, and for the entire movement," said CUNA CEO and President Jim Nussle. "The Crashers get to network and participate in the premier event of the credit union industry, the GAC benefits from their enthusiasm and fresh perspectives, and the movement is invigorated by a new generation of fired-up advocates who have learned how to reach out to legislators to effect change."
The Crash the GAC is brought to you by The Cooperative Trust and CUNA, in association with Credit Union Leagues/Associations.
# # #
About The Cooperative Trust: The Cooperative Trust is a grassroots community of young people who work in credit unions and cooperatives. Founded by the Filene Research Institute and made possible by CUNA Mutual Group, the Trust connects and enables several hundred young people fighting for the future of socially responsible finance through meet-ups, mentorships and collective action.
About Credit Union National Association: Credit Union National Association (CUNA), based in Washington, D.C., and Madison, Wisconsin, is the premier national trade association serving America's credit unions.
About the West Virginia Credit Union League: Founded in 1937 in Huntington and headquartered in Parkersburg, the West Virginia Credit Union League is the trade association for the state's 88 not-for-profit credit unions, which serve the depository and lending needs of people from all walks of life. Credit union deposits are insured by the National Credit Union Share Insurance Fund (NCUSIF) which is administered by the National Credit Union Administration (NCUA), an agency of the federal government.