News
League Mourns Loss of Former League President Jose Alonzo — 11/28/17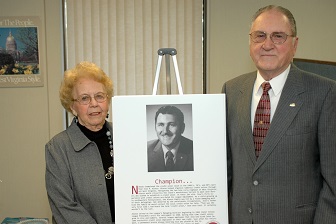 Jose Alonzo and wife Rosemary returned to the League office in

April of 2011 as part of the League's 75th anniversary celebration.
Remembered as friend and mentor
Former League President Jose Alonzo died on November 25 in Parkersburg where he resided with his wife Rosemary. Alonzo's credit union movement career spanned 40 years in West Virginia.
"I am sorry to inform you that former League President Jose Alonzo passed away on Saturday. Jose, who was 91, lived in Parkersburg with his wife, Rosemary," stated League President Ken Watts in a Monday email to League member credit unions.
A permanent bronze plaque noting Alonzo's career and dedication to the credit union movement is prominently displayed near the front entrance of the League office. Alonzo was the primary force in getting the League office moved from Charleston and built in Parkersburg in 1974. At the time, Parkersburg was seen as more centrally located among credit union officials.
"Jose's credit union involvement spanned nearly 40 years and included work as a volunteer, a credit union manager, a CUNA Mutual Group employee, and two stints with the League, the last 20 years as League President," Watts explained. Alonzo organized numerous credit unions throughout West Virginia and helped form the current structure of the League and its various support organizations. He retired from the League in March of 1989.
"On a personal note, Jose had a significant influence on my career, giving me my start in credit union work and serving as both a mentor and boss," Watts stated. "The credit union movement in WV is much stronger because of Jose Alonzo and while not everyone had the opportunity to know and work with him, we all lost a good friend with his passing," he added.
Mr. Alonzo will be laid to rest in Shinnston at the Shinnston Memorial Mausoleum Cemetery, WV, on Nov. 29 following the funeral service in Vienna, W.Va.
# # #