News
CUNA's Chief Economist Shares Good News on Corporate Stabilization Fund — 6/1/17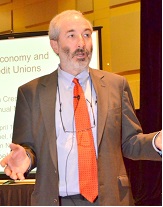 CUNA Chief Economist/Chief Policy Officer Bill Hampel said credit unions can expect a series of refunds on their contribution to the corporate stabilization fund according to CUNA's Credit Union Magazine. Hampel's news came in his credit union update at the CUNA CFO Council Conference being held in Orlando this week.
Hampel explained that credit unions will not receive direct refunds of assessments. Instead, the surplus equity in the corporate stabilization fund will be added to the National Credit Union Share Insurance Fund (NCUSIF) and provide NCUSIF dividends.
Hampel predicted the refund will occur after the corporate stabilization fund is merged with the NCUSIF, which is expected to occur later this year, triggering a NCUSIF dividend early next year.
Hampel said credit unions can expect a 4 to 5 basis point (bp) dividend next year, and more significant dividends (perhaps as much as 20 bp in total) over the following three years.
Partial replenishment of member capital written down in the five conserved corporates will likely occur in 2021.
Hampel stated that the lower costs are due to an improving economy, consistently low interest rates, legal settlements, and accounting provisions that overestimated losses.
No formal announcement by the NCUA has been made on the disbursement of funds.
# # #
Source: Credit Union Magazine